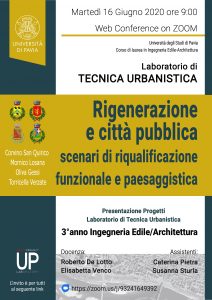 ITA
In questo semestre tutto nuovo e tutto da inventare, abbiamo portato avanti una bella collaborazione con i Comuni di Corvino San Quirico, Mornico Losana, Oliva Gessi e Torricella Verzate che, con i loro territori, sono diventati i protagonisti delle attività di Laboratorio del corso di Tecnica Urbanistica, terz'anno di Ingegneria Edile/Architettura di UniPV!!!
Siamo contentissimi di poter presentare domani in una web conference su Zoom dalle 9.00 i progetti di "Rigenerazione e città pubblica.: scenari di riqualificazione funzionale e paesaggistica"!!
Link diretto: http://zoom.us/j/93241649392
ENG
In this really new kind of semester, we have carried out a good collaboration with Corvino San Quirico, Mornico Losana, Oliva Gessi and Torricella Verzate Municipalities that, with their territories, have become the key players of Urban planning I Design Studio, 3rd year of Building Engineering and Architecture!
We are delighted to present tomorrow in a web conference on Zoom from 9.00 AM the results of students' projects "Regeneration and public city: functional and landscape redevelopment scenarios".
Direct link: http://zoom.us/j/93241649392